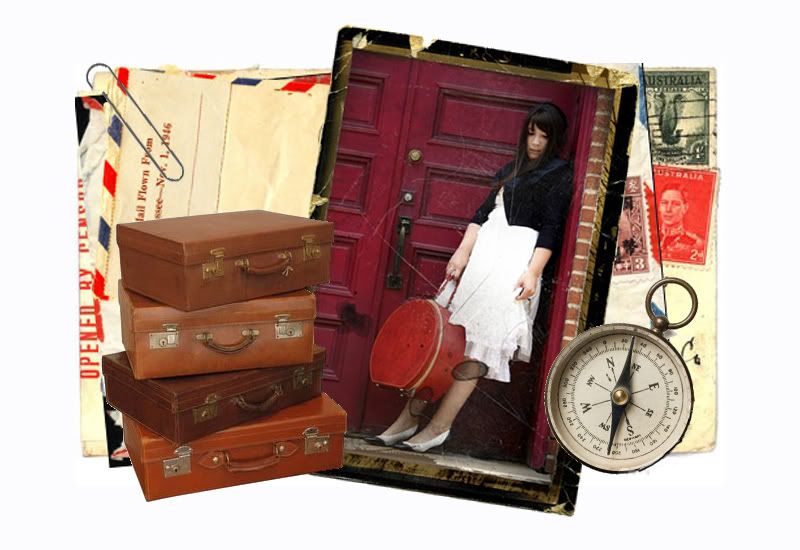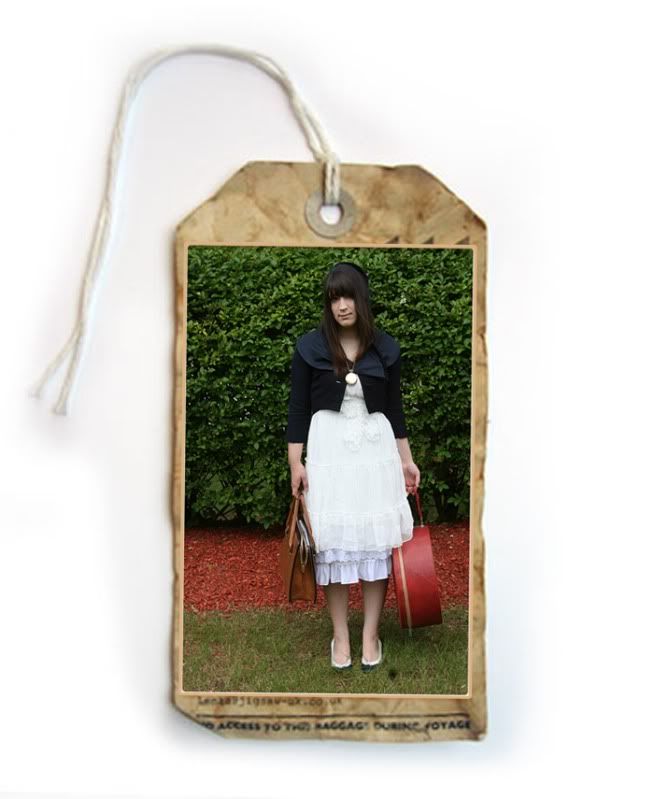 Navy Blue Bow Jacket: Local Antique Shop.
White Dress: eBay.
Vintage Slips: Thrifted.
Navy Blue Net Hat: Local Antique Shop.
Navy Blue and White Spectator Heels: Thrifted.
Red Hatbox: Antique Shop.
Yesterday, I spent a lovely evening in the city with one of my very best friends, whom I've lost contact with over the past 2 years. It was wonderful to catch up with her, and I regret the time we spent apart from each other. After 20 years of friendship, however, we were able to pick up right where we left off, and brush off those 2 lost years! Our tiny adventure led us right into the arms of H&M. I always have rather high hopes upon entering this store; I seem to have a way of over-glamorizing it. The very first thing I noticed was the obnoxious techno music that was playing, then the overabundance of brightly-colored, collarless, short sleeved blouses. Not that I don't enjoy sifting through a plethora of blouses, but It just seemed as if they completely and utterly consumed the entire building, and I was left suffocating in a raging sea of hot pink and purple Bohemian prints (Which I never really got along with)! I ended up leaving with a floral dress that was on super-sale, and a very pretty pair of floral sandals. Not all was lost! Forever 21 was right next door to H&M, and it was able to gently gather and mold together the pieces of my heart that H&M seemed to carelessly stomp all over. Shopping for new clothing always has a way of making me appreciate thrift shopping much more, though. I was having so much trouble actually making my way to the register to pay just $20 for a dress. When you're a consistent thrifter, there's nothing but guilt in those situations, as silly as that may sound.
I harbor no complaints for the city, however. The weather was ideal and the air had a muggy, summery, cook-out type feel to it as the sun started to set. The Pittsburgh art festival was going on all around us, there was live folk music playing, and the ground fountains were proudly making their appearance in an assortment of brilliant colors. The only thing that topped all of this were the slices of white chocolate raspberry truffle cheesecake that we both devoured before saying our goodbyes to the city that we seem to fall in love with all over again, each time we venture to it.